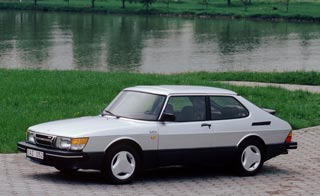 Being produced for over 15 years the Saab "Classic" 900 was a major player in Saabs continued success throughout the 80's and early 90's. In this period over 900,000 were produced and included nearly 50,000 of the elegant and stylish convertible.
Derived from the Saab 99, the 900 was very different car indeed. It featured a new front section, re designed rear and a new interior said to be based on cockpit design principles.
In 1984 Saab took this one step further with the introduction of the 900 turbo 16s. By using a new design 16 valve head, a modern turbocharger and an intercooler power output was increased, 175bhp with a massive 201lbft of torque.
1986 saw the launch of the convertible. Based on a 2 door it featured a electric/hydraulic folding hood and strengthened body section. Early models were all turbocharged with high specification including full luxury leather interior. The convertible range was increased in 1990 with the inclusion of a 2.0 naturally aspirated engine.
To mark the end of production in March 1993 there was a special edition 'ruby' Painted in ruby metallic with special trim these cars are very sought after.
The Classic 900 today is as usable as it was when it was a new car, with a good level of occupant safety, passenger comfort and an enviable level of reliability. It makes all models very practical cars to own, with the three door turbo 16s rapidly achieving cult status in the classic car world.
Our C900 Registrar, Alex Rankin, is a passionate fan of this model and will be only too happy to help with your enquiries.