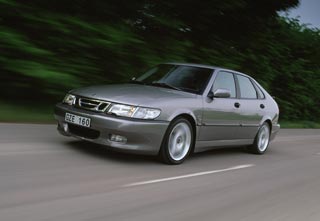 If you look under a 1999 SAAB 9-3 you will find much that is like a Vauxhall Cavalier of an earlier vintage. This is the result of the marriage of SAAB with General Motors. First born of this union was a new 900, shaped with styling references to the old (pre-GM) 900. With very little change to the body work but very necessary and important honing of the engineering, and improved quality, the 9-3 was born. Both 900 and 9-3 were available as practical 3- and 5-door hatchbacks. Evolution afforded an all-turbo 9-3 range of 2-litre engines that produced 150- 205 bhp, a 2.3 turbo in the Viggen: 225 bhp; and finally a 2.2 diesel engine was made available – SAAB's first.
Both the 900 and 9-3 versions have sported very popular and stylish convertibles.
Any members should feel free to contact the Registrar for advice, information, or to share details of their Gm900 or 9-3 models.