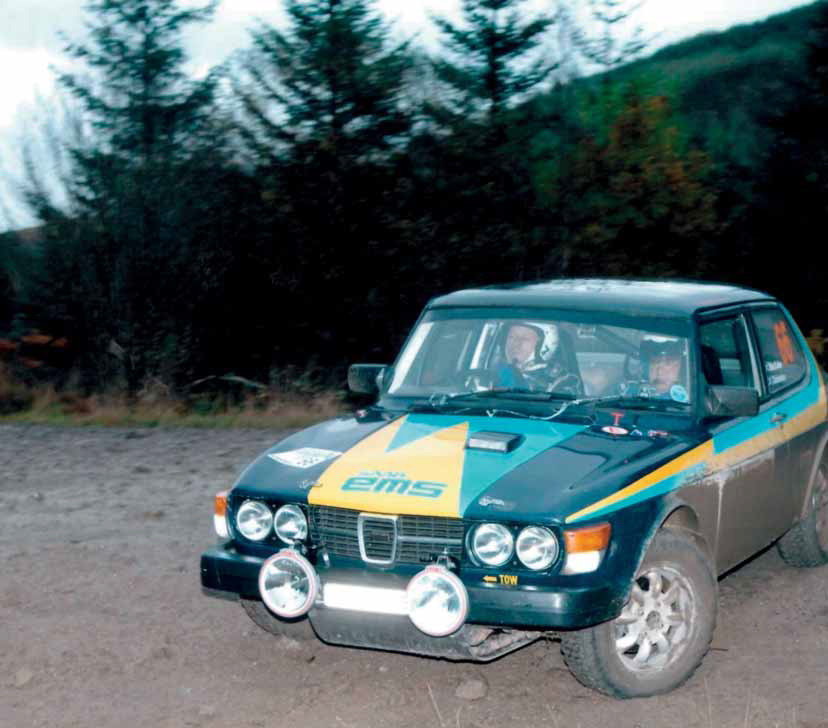 As the final round, the Galloway Hills Rally was not a scoring round for us and my driver took the decision not to contest it, giving me a chance to dust off the 99 for another blast through the woods. Martin MacCabe, a Scottish Championship regular kindly agreed to read the notes. With a two car team bolstered by Grant Inglis in his lovely new MK2 Escort we made a good spectacle as the service barges towed us into the Rally HQ in the pretty town of Castle Douglas.

Whatever happens next year I'm going to try and find a rally to do in the middle of summer! On Saturday morning, in a repeat of the Pirelli, the great Scottish weather was coming in sideways and a couple of days of downpours before the start had left the stages very slippy, not
the best for trying to build confidence! The lessons I had learnt on the Pirelli from Grant were leaving me determined to push the car harder, I had spent too much time tip-toeing around the bends in too high a gear rather than getting up through the 'box, driving harder and
thus gaining more mechanical grip.
Six bends into stage one I completely ignored his advice and came out of a turn in second putting the car in a side to side 'tank slapper' that I was lucky to get away with. Confidence knocked down again, it took a while to get back into a rhythm and I was happy just to get through the stage in one piece, although my driving was poor, grip levels were certainly low.
Stages two and three were much better and I began to enjoy myself, driving a bit harder I began to feel the car doing the work and gripping harder, bends I had been taking in second were starting to get third gear!
Stage four was a re-run of two so I was determined to get a better time. All was going well until a downhill stretch into a turn where I stamped on the brakes only to feel a loud 'pop' and my foot hit the floor, never a nice moment! With three miles to go I decided to drive on thinking I'd blown a seal somewhere, however after a few bends it became apparent that I was dragging a rear wheel. We pushed on and passed the finish to find a triangular wheel and the rear brake calliper in pieces. We quickly had the car jacked up and the offending calliper removed. With a spare wheel on we drove the 12 miles back to service with no brakes and amazingly arrived in one piece. Sadly, as we dragged our way through the woods we passed Grant and his co-driver Robert with a slightly bent MK2 having overcooked it into a bend with a very unforgiving ditch.
With insufficient service time to check the damage to the disc, the hard working service crew of Dave, John, Davie and Connor set to work disconnecting the rears, bleeding the fronts and we ran with those only, leaving us late from service but still within time to get to stage 5 only to find it closing up! We hammered on into six and found the closing car just about to run, as we were still in time we persuaded them to give us a run and off we went again. Darkness was falling and I was very thankful for the extra spotlights on the front, the stage was
the muddiest of the day but I was content with a quick drive through and made it to the finish. Martin and I particularly enjoyed our 'superstar' moment as we drove through one particularly dark and twisty section and half a dozen camera flashlights started going off from the side-lines.
Other than the brake calliper, the Saab ran faultlessly needing nothing more than petrol all day. We were given our finish with a nominal time for stage 5. As a pleasant surprise we were awarded the trophy for 'Best prepared car', a nice finish to a great day out. A big thank you to all involved and I look forward to being out again in 2015.

Gavin Chisholm