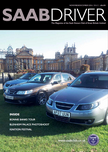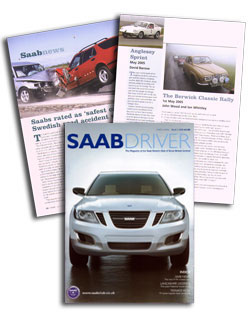 The Club Magazine
Members of the SAAB Owners Cub receive a copy of the club magazine 'SAAB Driver' bi-monthly. The magazine (A4 size) is a 56 or 64 page colour publication. The magazine carries articles, news, technical, events and many other items. Members get 5 or 6 copies a year. Click Read more for a couple of examples

Sample SAAB Driver Magazine from 2015

Sample SAAB Driver Magazine from 2017
The content of the magazine varies from month to month. Features include Steering Wheel, Car Clinic, Post Bag, Model Registers including the new Boost! feature which addresses all aspects of Saab Tuning.
In the Members area of the Site members have access to Back Issues, currently dating back to 2007! Above is an example of a pre 2009 edition available in the members area.
Earlier versions are only available on paper. We are actively looking at getting these digitised. There are all sorts of issues with this, in particular the cheapest options involve, effectively destroying a copy of the magazine by cutting the spine. As you can image owners of the rarer editions are not particularly enthusiastic about this idea.
The back issues section has recently been updated to include all 2015 issues
The 'SAAB Driver' is the main means of communication between members and provides the opportunity to air views and ask questions. A sample copy of the magazine is available to download in Adobe PDF format.