New Generation 900 94-98
The second or 'new' generation Saab 900 (also referred to as the GM900 or NG900 among enthusiasts) was built on GM's Opel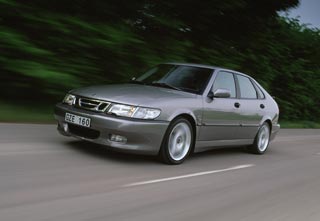 Vectra platform as a replacement for the 'Classic' first generation Saab 900. This all-new 900 was produced in 1994 through to 1998 model years. In mid 1998 it received over 1100 individual improvements (although some were actually introduced on the 1998 model 900) and was renamed the Saab 9-3 (in most markets; in the US the name change was introduced for 1999). As the 9-3, the NG900 was produced through 2002. Variants included 900i (four-cylinder, non-Turbo), S (fourcylinder,non-Turbo) and SE (four-cylinder Turbo or V6) models in three-door, five-door and Convertible body styles. For 1997 and 1998 only, there was also a special edition 'Talladega' model after a record-breaking endurance test in 1996, on the Talladega racetrack. Depending on market, the NG900 was available with a choice of 2.0l or 2.3l Saab 16-valve DOHC engines (Saab engine codes B204, B234) in naturally aspirated or turbocharged form (2.0l only), as well as a 2.5l version of GM's European 54 V6 engine. Engine management for the Turbos was by Saab Trionic 5 with Direct Ignition (SDI) and Automatic Performance Control, and for non-Turbos by Bosch Motronic fuel injection. A distributoroperated ignition system was provided for naturally aspirated engines in some markets. However, in contrast to the 'Classic' Saab 900 with its longitudinally mounted engine and fronthinged hood (bonnet), the NG900 had a more-common transversely mounted engine with rear-hinged hood (bonnet).
Sensonic Model The 'Sensonic' clutch variant, (available on Turbo models only) provided a manual gear lever as in a standard manual transmission car, but omitted the clutch pedal in favour of electronics which could control the clutch faster than an average driver.
Please let the registrar know your Saab NG900/OG9-3 stories. If you have any questions or queries then please ask.
Contact the Registrar